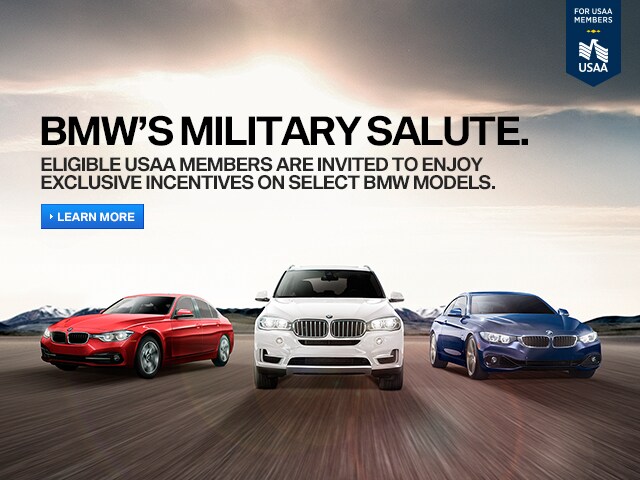 Here at
Weatherford BMW of Berkeley
, we value our military's commitment to protect our freedom. And now, thanks to our relationship with United Services Automobile Association (USAA), we're able to show our appreciation with special savings of up to $2,000 for eligible USAA members on the lease or purchase of a new BMW. For more details, please contact Weatherford BMW of Berkeley at 855-571-5269.

How Does It Work?


The BMW Domestic Military Program is an incentive program that will be provided to all eligible USAA members that lease or purchase an eligible vehicle through an authorized BMW Center.  The BMW Domestic Military incentive can be redeemed at any authorized BMW Center.  In order for the USAA member to take advantage of this incentive, they must be P&C (Property and Casualty) eligible.  P&C eligible membership is a privilege earned by those who have served honorably and can be passed down to their children.
In addition to the Domestic Military incentive, the USAA member is eligible for any incentives that are in place at the time of delivery unless otherwise stated.  The USAA Member negotiates best price with the Center.  The USAA incentive is then applied to the negotiated price.  Please reference the table below for the BMW Domestic Military Program incentives by model for vehicles financed through BMW Financial Services or if the USAA member chooses to pay cash or use USAA/alternative financing.
Vehicles can either be delivered out of center stock or can be ordered depending upon availability.  Pricing is based on a U.S. Delivery only.  The BMW Domestic Military Program cannot be combined with the European Delivery Program or U.S. Military Stateside Delivery Program Members are eligible for one vehicle per year per member insurance ID#.
Please contact Weatherford BMW of Berkeley for details about this offer by calling 855-571-5269 or contact us here.

The Domestic Military Program will be effective through January 31st, 2019.