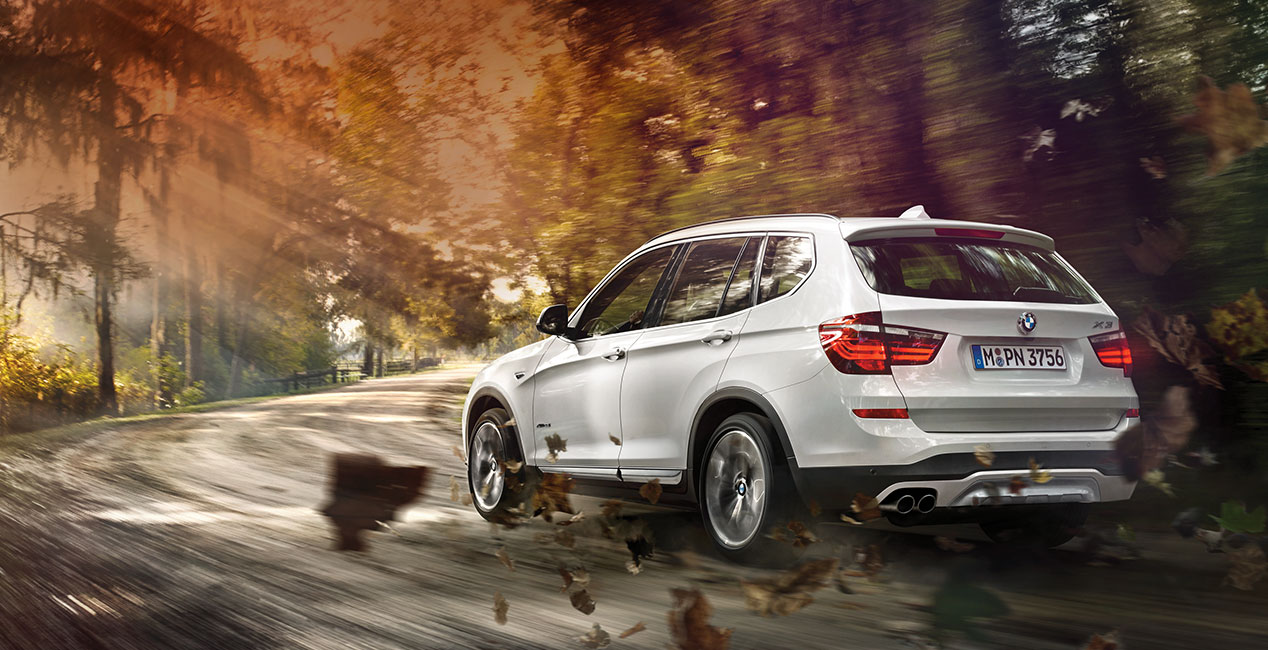 New 2016 X3 perfectly steps the line between luxury, practicality
Finding a balance between sportiness, roominess, luxury has been tough for most automakers, but BMW puts on masterful show with all-new 2016 X3
BMW's X3 has always been the perfect luxury crossover for any driver. Family-friendly, yet sleek and sporty, this vehicle has been a staple in BMW's line up for over ten years.  The new 2016 X3 defines driving pleasure, and with this year's model, the German automaker is holding nothing back.
The crossover is still available in the four trim levels, the standard base of sDriver28i, the mid-level
xDrive28i
, the diesel
xDriver28d
, and the top-level
X3 xDrive35i
. This 5-door, 5-passenger X3 has 63.3 cubic feet of cargo space, offers many features that only BMW could fit into one vehicle.
The standard
sDrive28i
is continues to have rear-wheel drive (RWD) configurations, while the xDrive28i continues to have intelligent all-wheel drive (iAWD). Power remains a 2.0-liter turbocharged inline- 4-cylinder engine for both the sDrive28i and xDrive28i.  The 8-speed automatic transmission puts of 240 hp and 260 lb-ft of torque. This crossover gets an astounding 21 mpg city/28 highway/42 combine.
The diesel xDrive28d returns with the 2.0-liter turbodiesel I4, and the 8-speed shiftable, automatic makes 180 ho and 280 lb-ft of torque. For Mileage this diesel gets 27 mpg city/34 highway/30 combine.
For a need of space and speed, the 2016 X3 xDrive35i has an amazing 300-hp and 3.0-liter turbocharged inline 6-cylinder (I6) powerplant. Again, it comes standard with the 8-speed shiftable automatic with 300 lb-ft of torque. Mileage comes in at 19/26/21, but in 5.8 seconds can reach 60 mph.    
The X3 cabin features, still remain the same as the 2015 models, but there are some new updates. All variants will have 18-alloy wheels, a power lift gate, LED fog lights, and auto-dimming mirrors. The basic iDrive infotainment system with its 6.5inch display comes standard in all models, as well as the automatic engine start/stop technology for all X3 models, these are just a few features out of many that sets BMW's X3 apart from it's competitors.
Options for each vehicle remain in package bundles, for upgrades.  Upgrades include leather upholstery, heated steering wheel front and rear seats, enhanced torque vectoring bolstering the electric power steering system.  Parking Assistant is available to prevent parallel-parking issues.
BMW is known for their sleek and powerful designs, but they also offer the top of the line safety features. The National Highway Transportation Safety Administration (NHTSA) and the Insurance Institute for Highway Safety (IIHS) both gave the X3 models the highest marks for safety. Standard safety features include 4-wheel antilock brakes (ABS), traction and stability control, and side-mounted and head curtain airbags. The 2016 model will continue to have emergency alerts and communications, post-collision safety system, and remote antitheft alarm. BMW provides all these standard features to ensure that driver can enjoy the X3 to it's fullest without worry.
Year after year, the X3 is one of the most anticipated crossovers. People look to BMW to see how it defines the standard of excellence, and BMW always delivers. The 2016 X3 is already on the market, it's not question, the X3 will continue to rank the highest in its class.
---
For more information about the 2016 BMW X3, or any of the variants within the crossover line, contact Weatherford BMW at 855-800-7096 or visit our dealership located at 735 Ashby Ave. in Berkeley for a test drive.