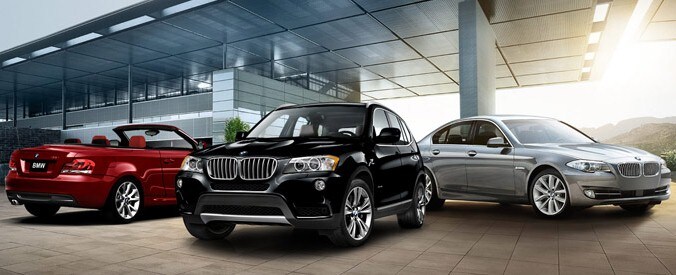 Lease Returns Made Easy.
Weatherford BMW and BMW Financial Services have teamed up to make your lease end process as easy as possible. We at Weatherford will be able to offer an array of BMW Loyalty Programs to consider.
Let Weatherford BMW assist you in every aspect of the lease end process. Our professional Lease End Advisor provides straight forward information so you can make the best lease end decision to fit your needs.
To get more information or make an appointment for an inspection click here.
Lease-End Guide and Options 
The Road Ahead
If you are currently leasing through BMW Financial Services, you may have questions about what to expect at the end of your lease. This guide provides you with an explanation of lease-end options, the procedures to follow at vehicle turn-in, and examples of what we consider "acceptable wear and use."
With three months to go before your current lease ends, you have several exciting choices in front of you.
The three routes represent your three choices. The route you travel next depends entirely upon what you plan on doing with your current BMW. Review the choices that you have ahead and pick the option that's best for you.
Your Lease End Options and Financing
1.  If you decide on Route 1 - Select your next BMW
    Weatherford BMW can assist you with ordering your next BMW from the factory.
    Pick your favorite from Weatherford BMW's new vehicle inventory in Berkeley.
    Acquire a Certified Pre-Owned BMW
    Arrange Financing - Lease through BMW Financial Services or Finance through BMW      
    Financial Services.

Important Note:
If you choose to lease or finance a custom-ordered BMW, we will be happy to extend the lease on your current vehicle up to six months until your new BMW arrives. (Not available to OwnersChoice customers.) Keep in mind that if your next vehicle is a BMW leased or purchased through BMW Financial Services the end-of-lease disposition fee on your current vehicle and the security deposit on your new vehicle is waived. 

2.  If you decide on Route 2 - Keeping your current BMW
    Make arrangements to keep driving your current BMW.
    Re-lease through Weatherford BMW
    Purchase your vehicle outright with financing options through Weatherford BMW
Should you wish to purchase the vehicle that you are currently driving, you may do so by paying the residual value* shown on your original lease agreement. You can choose to either finance the total amount due with BMW Financial Services, or simply send us a cashier's check or certified funds to pay it off.
For assistance, please call Weatherford BMW at
(800) 571-5269
today.
*Other fees may apply
Re-lease your current BMW
If you want to keep your BMW a while longer, BMW Financial Services can arrange a short-term re-lease (12 to 24 months). Please call Weatherford BMW to discuss the length of your new lease and the re-lease payment amount. (Not available for OwnersChoice customers.)
3.
If you decide on Route 3 - Return your BMW
    Notify BMW Financial Services
    Have your vehicle inspected. View the Turn In Check List below for more information on the
    inspection.
    Make any necessary repairs
    Turn in your Vehicle at our Berkeley showroom
If you are an OwnersChoice customer, you may sell your vehicle back to BMW Financial Services. If you choose this option, you will be responsible for the same vehicle turn-in process as our lease customers, so please refer to Vehicle Turn-In Process for complete details.

FAQ's:    
Q:
Do I have to return my BMW to the dealer I originally leased from?
A:
No, you can return your lease to Weatherford BMW.
Q:
Should I have a pre-inspection completed prior to turning in my vehicle?
A:
Yes. During your pre-inspection you will receive an itemized list of excess wear and tear charges.
Q:
What will I be charged for?
A:
An itemized list will be provided during your pre-inspection or final inspection.
Q:
What do I need to bring when I return my BMW?
A:
The books, both sets of keys, and a navigation disk or cargo cover if your vehicle was equipped with them.          

Q:
Is it possible to terminate this lease early if I want to lease a new BMW?
A:
Yes, we may have a program available.
Q:
Can I certify my current BMW and purchase it?
A:
Yes, if your BMW qualifies. Weatherford BMW is happy to put your vehicle through the BMW Certified Pre-Owned process and arrange the paperwork so you can purchase your Certified Pre-Owned BMW. 
Q:
What are the benefits of returning my current lease and leasing a new BMW?
A:
You would qualify for BMW Owner Loyalty Programs. BMW has lots of BMW Owner Loyalty offers extended to our customers. Call Weatherford BMW at (800) 680-1705 today for more information.
Turn In Check List
    As you prepare to return your vehicle to your BMW Center, please use this checklist      to ensure your vehicle turn- in experience runs smoothly.
    Make sure the Vehicle Inspection Report (VIR) remains in your glove-box after your      vehicle's inspection.
    Make a turn-in appointment with Weatherford BMW.
    Bring your receipts for any repaired items to Weatherford BMW at the time of turn-in.
    Have Weatherford BMW review your VIR and note any repairs completed.
    Have Weatherford BMW record your mileage and record it on the VIR.
    Make sure both you and Weatherford BMW representative sign the VIR. THIS IS               YOUR TURN-IN RECEIPT
    Certain states require license plate return at lease end. Check with the DMV for your 

   

state or refer to the Lease-End Brochure to see if this requirement applies to you.
    Call BMW Financial Services at 1-800-959-4269 and press #4 to confirm turn-in of         vehicle.
It is important that you turn in both sets of keys, service records, Owner's Manual, tool kit and spare tire with your vehicle. 
Please don't "Turn In and Run"!  If you do not get a signed VIR as your receipt or if you choose not to get your BMW inspected by our independent agency prior to turn-in, you are responsible for any damages or excess mileage identified by BMW Financial Services after you drop off the vehicle.
For more information or to make an appointment for a pre-inspection click here.