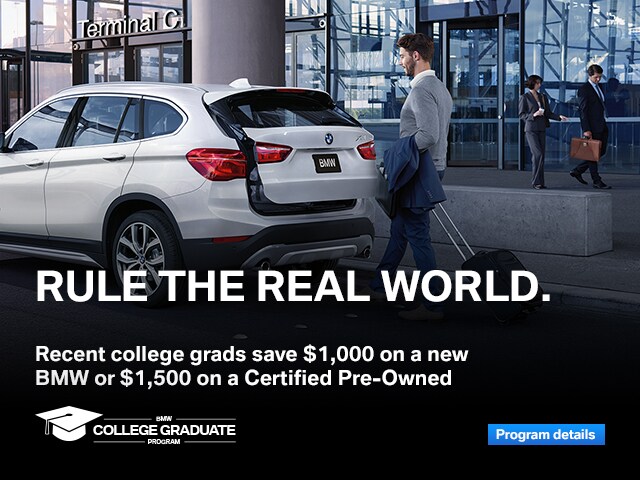 GRADUATE TO A CAR THAT PUTS YOU IN THE DRIVER'S SEAT.
You've studied hard, college is behind you, and now it's time to get behind the wheel of The Ultimate Driving Machine
®
. BMW has made it easier than you might think with a special program offered exclusively to qualifying college graduates. If you've recently graduated, or are about to graduate, you're eligible for a
$1,000
incentive, plus our best available rates when you lease or finance a New 2015 or 2016 BMW. Customers looking to purchase a Certified Pre-Owned BMW are eligible for a
$1,500
incentive.
You're eligible if: 
You've earned an undergraduate, graduate or Associate's degree from an accredited college or university within the previous 24 months OR you are eligible to graduate within the next 6 months and have a verifiable offer of employment.


You have at least 6 months of credit history with no major derogatory entries.
To learn more about this special offer, including any additional program requirements, please contact us today!